News
The "+5% to the top-up amount" offer is about to expire
4 June 2023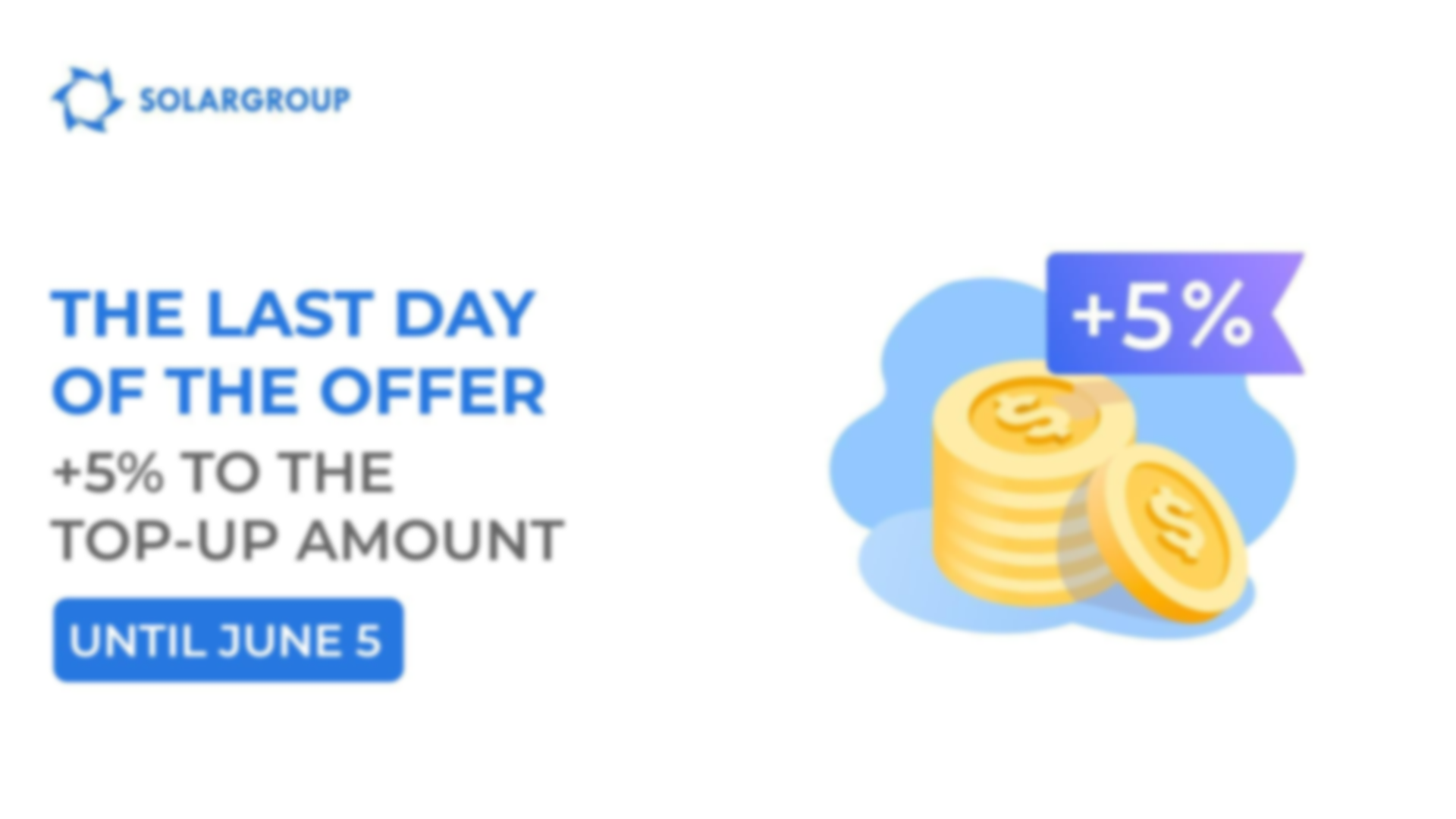 Hurry to add funds to the main account in the back office until June 5 inclusive, before 23:59 Moscow time. Any method of adding funds to an account is acceptable, except internal transfers between accounts.

You will get an additional +5% bonus on the top-up amount for that.

With this money you will be able to buy more investment shares.

And most importantly, every payment you make now helps speed up the "Sovelmash" D&E construction.
News
A new level of developing the project in Latin America: what the SOLARGROUP conference in Peru demonstrated
2 June 2023
On May 27, a conference was held in Lima for the participants in the project "Duyunov's motors". The event became the largest one hosted by SOLARGROUP in Latin America. It brought together more than 200 guests: the project's most active investors and partners, newcomers, business representatives from Peru and guests from Ecuador.

While at the first conference in Peru in 2021 we mainly talked about the plans, this time we talked about our achievements.

SOLARGROUP's top managers Pavel Shadskiy and Pavel Filippov addressed the audience. They spoke about the construction progress of the "Sovelmash" engineering centre and the project news, announced the funding figures and the plans for developing the companies.

The presentation by Andrey Lobov, head of the "Resurs" production cooperative, aroused general interest. He demonstrated "Slavyanka" based combined winding electric motors, including a boat motor. He explained where they could be applied and how you could make money from it.

Victor Arestov, head of ASPP Weihai, addressed the conference via video link and explained how the technology was being promoted in Asia, in which countries it was in demand and what the prospects were for "Sovelmash" in the Asian market.

SOLARGROUP's national partner in Peru and Ecuador Massimiliano Vivian Rossini and the leading partners in Peru also addressed the audience. They spoke about how they were developing the project in their country.

The conference participants were the first to learn about the special offers for investors from Peru, to get answers to their questions from the speakers and to communicate with each other. Many asked when the technology would be available in their country and how to launch mass production of "Slavyanka" based electric motors.

Pavel Filippov: "The conference showed that the interest in the project in Peru has grown and become fundamentally different. There were a lot of people, business people, who were interested in developing the technology, not just investing. People understand the essence of this business and are willing and ready to develop it here."

See the highlights of the event in the video and photo report available here.

Weren't able to attend the conference in Peru in person? You could also join us in Ecuador. The conference there took place on June 3.