News
I now earn more than I could imagine | Story of SOLARGROUP partner Faizan Khan, India
30 January 2023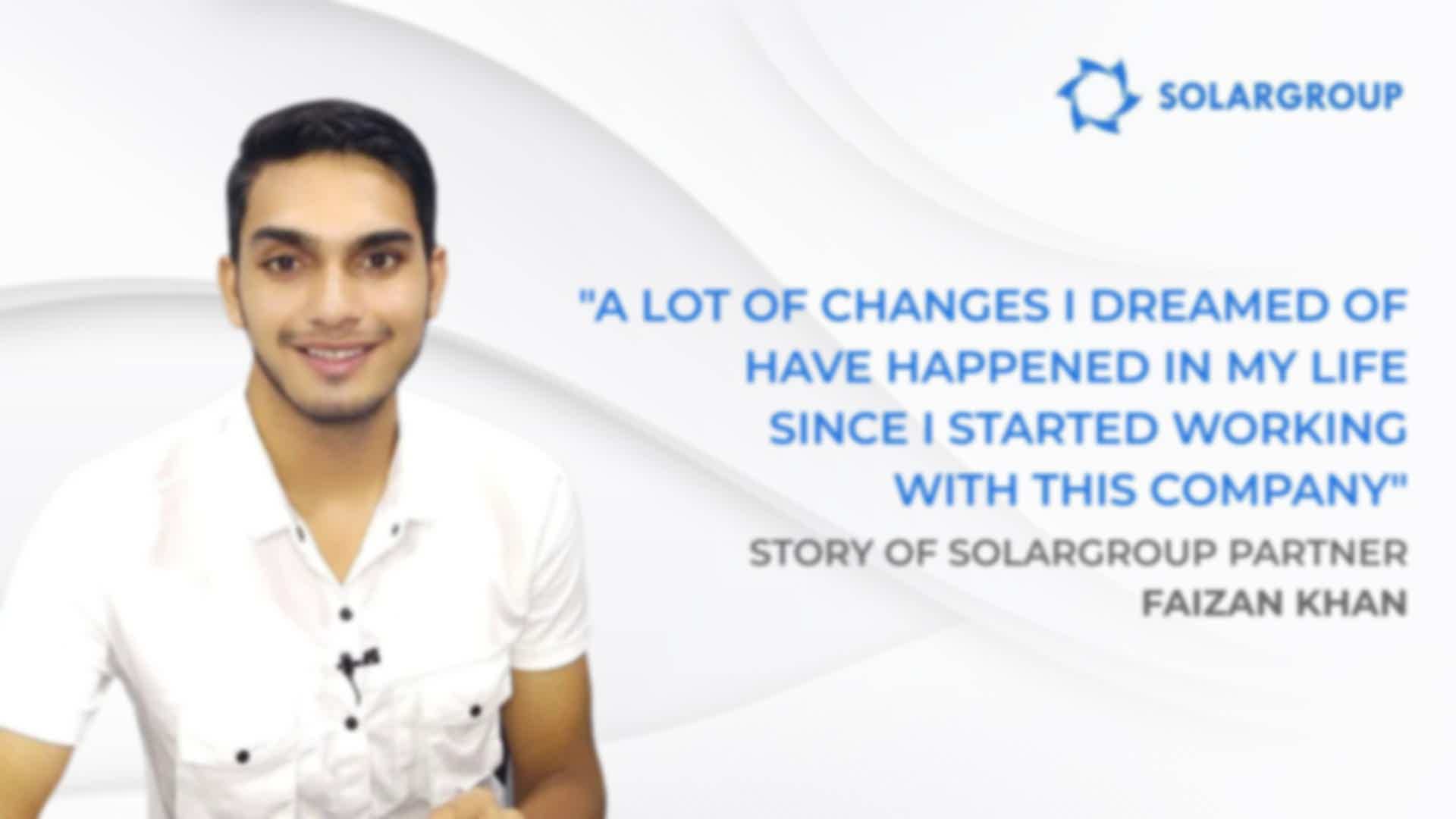 My name is Faizan Khan. I am 21 years old. I live in Auraia, which is a small town in India. I just passed my exam for a bachelor's degree in commerce. I didn't have any business of my own, because I devoted my time to studying.

Before I was introduced to SOLARGROUP, I had no understanding of what shares and investing were. At the time, I was just finishing my studies and tutoring young children. Besides, I did odd jobs in the town. I think my income then was barely $ 100 or $ 120. It was only enough to cover my basic expenses, so I could barely keep afloat. Since my father was a small-scale farmer, he didn't make a lot of money either. So at the time I was completely dissatisfied with my work and felt that something new had to happen in my life. I was looking for a new opportunity to make a lot of money myself and help people like me.

One day, scrolling through my Facebook feed, I suddenly came across a post that mentioned SOLARGROUP and buying shares. As I studied the information about this company, I really liked it, and then I decided that I wanted to participate in the project "Duyunov's motors" and definitely purchase some shares for myself. Then I learned about the mission of SOLARGROUP! I felt that in the future it would certainly succeed. I was very happy to learn that this business runs in harmony with the environment, protecting rather than destroying it.

I knew absolutely nothing about the investment sector. So I understand really well the people I know who don't understand these things either. Initially, when I first tried to tell people about the project, they just didn't believe me. And if people even knew a little bit about how to invest, they still thought it was risky. Then I turned to social media. And that's where I met like-minded people.

I signed the partnership agreement in the back office and started working with SOLARGROUP. Several of my friends and family members were strongly against me becoming a partner in the company. But I stood up for my decision, I didn't give in to them.

Since the people closest to me didn't support me, I made the most of social media. I started my work on promoting the project on Facebook, creating a page and a group there. At first I made a lot of mistakes, people didn't understand me. Then I gradually adjusted my actions, corrected my mistakes.

I got my first results in about two and a half months. Before that, I worked without training, and then I started to study. I was very happy when I got my first result! And now, step by step, this work is getting easier and easier for me.

As I said, I knew nothing about investments at all. When I learnt something about it and felt like buying shares, I encountered a problem. I didn't understand how to work with cryptocurrency. I didn't have a Visa or MasterCard card either. And then Kishore Vyas (a project partner who lives in Gujarat) helped me. So I want to thank this man from the bottom of my heart. I would also like to thank all the people who helped me study!

Because of my lack of knowledge, I had to face many more problems. But as I learned, I understood the topic more and more, and it was getting easier. At first they even told me that I was wasting my breath telling people about the project, they refused to listen to me. I watched the company's videos on YouTube to learn as much as I could. I also attended Zoom meetings. I started reading books written by successful and wealthy people. Whenever I was down, books inspired me, they always helped me get my morale back.

As I mentioned earlier, at the time I was doing odd jobs in my town, my income was barely $ 100 or $ 120 per month. And when I started telling people about SOLARGROUP and working to promote the project, I started to easily make $ 100 a day. At some point I started making more money than I could ever imagine.

I learned almost everything on my own, but no doubt the help of my mentor, whom I mentioned above, is invaluable. Now I intend to reach all possible levels as quickly as possible and recommend that my team do the same.

From the very beginning, I was very impressed with the whole SOLARGROUP team and the leaders in India, who inspired me to work with integrity. A lot of changes I dreamed about have happened in my life since I started working with this company. I've almost made those dreams come true.

Thus, I have gained a lot of experience here. And I'm glad that now what I want comes to me easily, because I've learned to attract it into my life. I can call my life happy and I would like to express my gratitude to the company. I will also ask God to make SOLARGROUP an ever more successful company. My thanks to all the people who work with me, and I'm happy to continue working together with them. I would also like to thank the upline partners and the entire team from the bottom of my heart!
News
Results of the week in the project "Duyunov's motors"
29 January 2023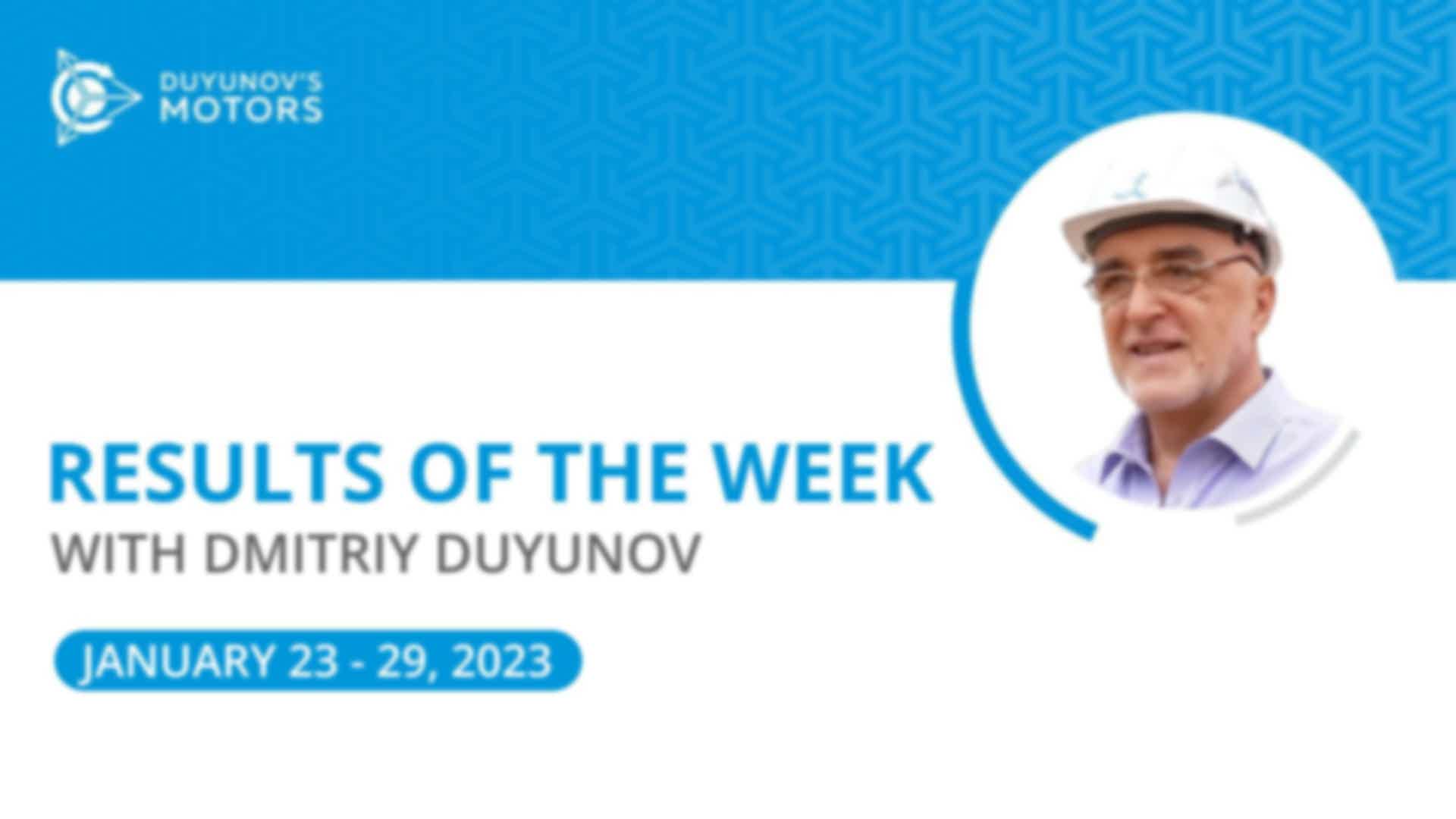 The main events of the project during the week took place at the construction site, where the "Sovelmash" design and engineering technology department (D&E) is being erected.

• The builders have nearly finished installing the interior partitions.

• Great attention is paid to cleaning the premises. As the area is being cleared of the panels, the cleaning service workers and "Sovelmash" employees are removing the dirt and garbage.

• Electrical wiring is being installed on the second and third floors of the office and amenity building.

• Equipment is being installed in the lab, the windows have been cleaned. This is the first area to be ready to run, since it will take some time to get the lab certified.

• The motor winding area is also being prepared to enable "Sovelmash" to start the production and sales of the goods based on those developments that have already been made.

• Work is underway to place the equipment needed to connect the engineering utilities. These are the water metering unit, water purification equipment, hot water supply units, etc.

• Earthwork is in progress outside the building, and water and heat are being supplied to the building. The off-site section of the heating pipeline is being backfilled.

Besides, Dmitriy Duyunov reported that "Sovelmash" was negotiating on the delivery of a complete set for the production of the first batch of 7.5 kW industrial motors. The D&E is preparing a storage room to house a container with this set.

Follow our news and keep abreast of the project development!