News
Pouring the finish floor, closing the thermal envelope | "Sovelmash" D&E construction
15 September 2022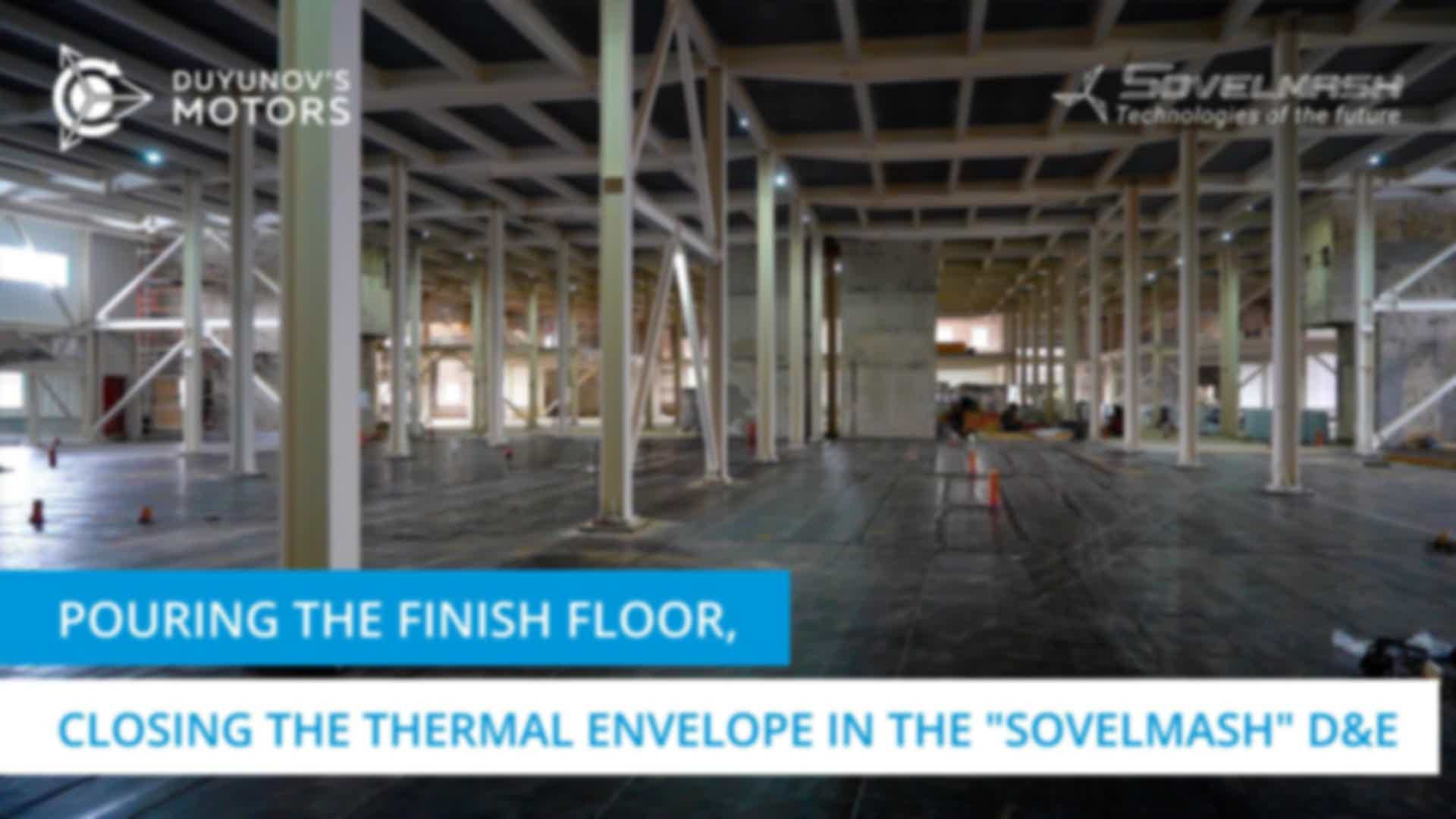 Important news from the construction site where the "Sovelmash" D&E is being erected.

• all waterproofing in the testing and production part of the building is done.

The waterproofing in the warehouse part of the building is nearing completion and waterproofing has already begun on the territory of the office and amenity building (O&A);

• a large amount of the protective layer is cast. The first "map", where the protective layer has been poured, is already tied with rebar, and pouring of the finish flooring is about to begin. In the near future, the final part of the "map" floor, located between the boundaries of the O&A and the testing-and-production part along the firebreak, will be poured.

On the "map" demonstrated in the last video, the reinforcement, strapping of the mesh and preparation for concrete acceptance are also in progress;

• to date, the thermal envelope has been closed - doors and windows have been installed, ventilation grilles have been insulated, and ventilation shafts located in the stairwell area have been insulated and closed.

Work continues on the third floor of the building: installation of interior partitions, installation of antechambers.

After pouring the finish flooring, the heating equipment will be installed in the premises, transformers will be mounted, and the building will meet the design documentation plan.

Then everything will depend on the funding rate and well coordinated work of contractor companies.

Watch the video from the construction site and follow our news - be the first to know about the company's events!
News
Where are leaders molded?
15 September 2022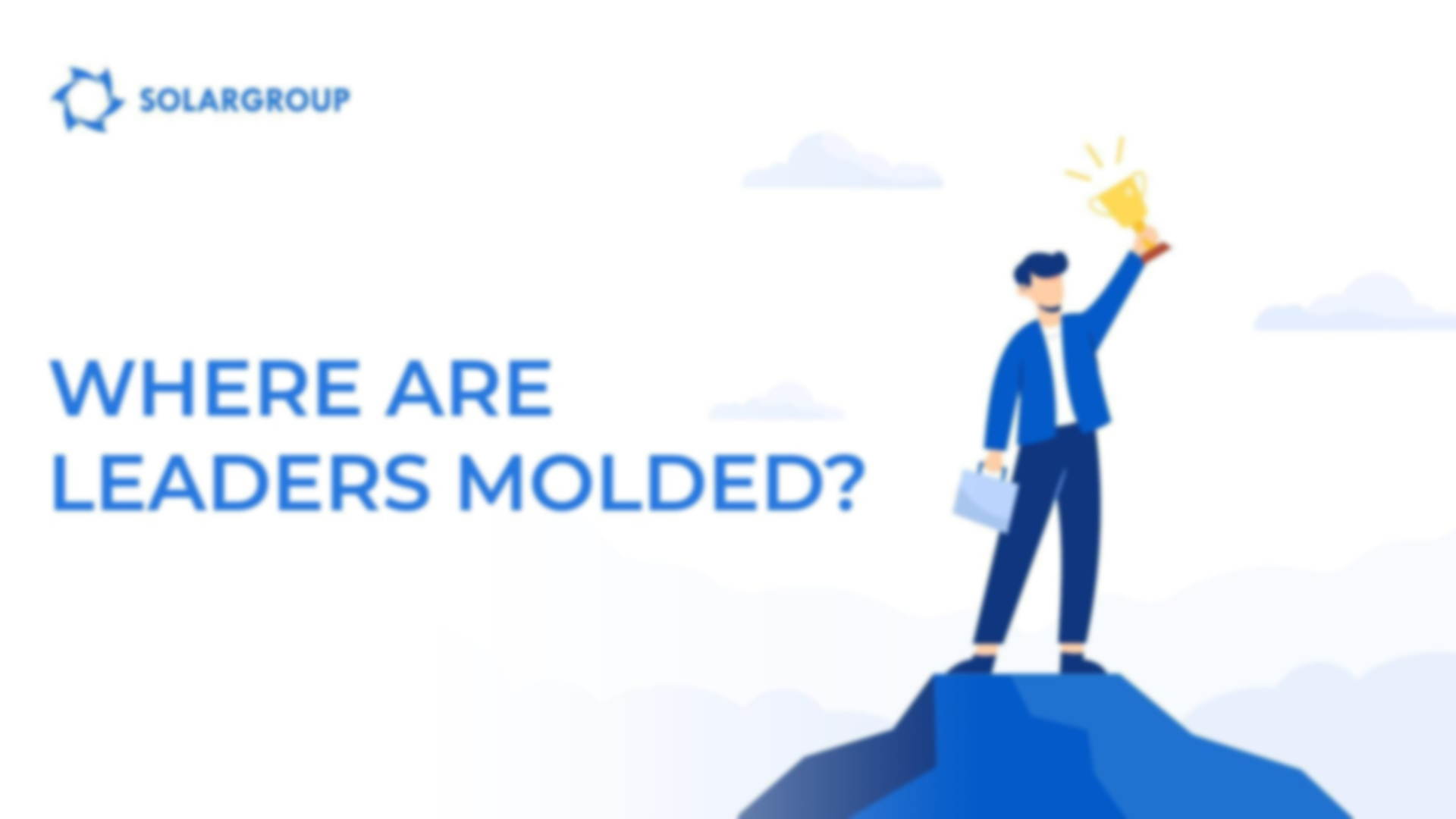 Ben Horowitz, general partner at Andreessen Horowitz Venture Fund, confessed in an interview that the hardest part of being a leader is self-management. One day an investor asked him for a capitalization table. And Ben didn't know what it was, but he didn't feel comfortable asking! If he had been a mere manager, he would have asked the investor himself. And a leader is expected by default to be ready for anything. Turns out it's a kind of pressure that not everyone can handle. Back then Ben got the job done, spent a lot of time not asking anyone any questions, and the result was pitiful.

Don't be like Ben! Don't be afraid to ask questions if you're a leader of your structure or want to become one.

There is no training for leaders. A leader is the one who was the best at something, who did everything with flying colours. A leader is chosen, trusted, and holds more responsibility.

Managing a structure of 10 people is not the same as managing a structure of 300. Tests for assessing a person's fitness for a leadership position are common online. So, statistically, the average fitness is 22 out of 100. That's the first thing you need to know to be a good leader: you're not perfect, and that's okay. There are no perfect leaders.

SOLARGROUP has prepared the "Partner Work Methodology" for you. It will help you understand how to become a leader yourself and grow your structure's leader. With it, you'll be able to travel this road with more peace of mind and confidence.

But not everyone who has ever been a leader of their own structure had that "Methodology"! And people faced the same problems that made them doubt themselves. Which ones exactly?

• Expectations of others. For them, you already have all the expertise and knowledge, as if you've been a leader for centuries. And that's not true! No matter how prepared you are, there will still be questions that you will encounter for the first time, and someone will be disappointed that you don't yet know how to address those questions. What should you do? Learn by doing! Admit to it with ease if you don't yet know the answer to a question.
• All of your team's mistakes are yours. Partners, especially beginners, can sometimes do and say ridiculous things. And it will all be associated with you! What do you do? Correct mistakes, help to correct mistakes when possible. You're gaining experience together, you're learning to work as a team, and that's okay, too.
• Emotions. A leader is not always a designated superior. A leadership position is often shaped spontaneously. And a leader takes all of their team's problems too personally. Virtually every national partner of SOLARGROUP says the team is family to them. When emotional involvement is high, there is a risk that a leader will become too demanding of others or begin to feel guilt. With low emotional involvement there is a risk of "putting on rose-tinted glasses" and not noticing the real problems. What do you do? Try to find the golden mean, learn to separate the importance of the problem from your feelings about it. That is bound to come to you with experience!

What will help you gain confidence in your abilities?

1. The experience of other partners who have traveled or are traveling the same path as you. Check out the stories of SOLARGROUP partners.
2. The habit of writing down your decisions and plans. It's not silly! Try it, and you'll see that the logic of your actions becomes clearer.
3. Focusing on what's important. It's worth learning to deal with issues gradually, rather than all at once. You can set a goal and break it down into tasks - the stages of achieving it. And solve problems as planned, without being distracted by a lot of unrelated things.
4. Curiosity. The temptation to refuse to try new things is always there. What if it proves too difficult for you? But if you don't try, you won't know what a strong leader you could be.

Doubt is normal. No successful person was prepared in advance for success. They were just brave enough to realize that you can do more than you think you can.